NO CCTV - Street Lighting
Street lighting, unlike CCTV, is an effective and low cost crime prevention measure.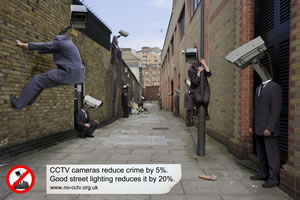 Image by Anita Lasocka
A report produced by the National Association for the Care and Resettlment of offenders (NACRO) entitled 'To CCTV or not to CCTV?' found that:
Three-quarters of the Home Office Crime Prevention budget was spent on CCTV between 1996 and 1998, yet a comprehensive review has revealed the overall reduction in crime was only five per cent. A parallel systematic review carried out by the Home Office that looked at street lighting, however, found a highly significant reduction in crime of 20 per cent.
There have been a number of studies into street lighting including:
Home Office Research Study 251 - Effects of improved street lighting on crime: a systematic review
A REVIEW OF STREET LIGHTING EVALUATIONS: CRIME REDUCTION EFFECTS by Ken Pease, University of Huddersfield
Effects of Improved Street Lighting on Crime - Campbell Collaboration Crime and Justice Group
Street Lighting and Crime: Diffusion of Benefits in the Stoke-on-Trent Project - Kate Painter and David P. Farrington
Better community reduces crime, technology does not