A group of digital photography students from London South Bank University felt so strongly about the unchecked proliferation of surveillance cameras in the UK that they have devised an anti-CCTV advertising campaign for No CCTV. The students have come up with a series of poster designs that present in a humorous way the feeling of being watched as you go about your daily life and illustrating "the unnecessary and somewhat ominous nature of this surveillance". The team, made up of Anita, Arte, Dana, Charlotte and Aaron used simple and effective slogans such as "It's rude to stare" and "Who watches the watchers?".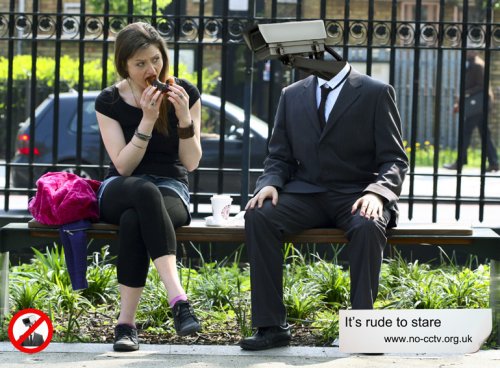 Image by Charlotte Miceli
The campaign uses a camera headed man to illustrate the ever present CCTV camera. Arte said: "By creating a human/camera hybrid character in the images as well as for the campaign logo we hope to re-engage the audience's attention that CCTV camera operators are watching them and that the surveillance emanates from an unseen 'authority' that undermines our right to privacy".
Many thanks to Anita, Arte, Dana, Charlotte and Aaron for all the hard work they put into the campaign. We will put all of the campaign images on the No CCTV website soon and we hope to turn their designs into t-shirts and posters and make them available. Of course if there's anyone out there with a few thousand pounds to spare to pay for a billboard and/or newspaper launch of the campaign then we'd love to hear from you!