A new CCTV row has broken out in parliament over who loves CCTV the most. In the red corner Harriet Harman MP, the acting leader of the New (or is it newer?) Labour party, and in the blue corner the Prime Minister David Cameron MP.
Before the general election Labour claimed that the opposition parties were not as in favour of CCTV as they were [1]. This was not true, but it framed the discussion of surveillance cameras - ensuring that no mention was made of the freedoms removed from UK citizens, no mention of the failure of cameras as a crime fighting tool and no mention of the hundreds of millions of pounds of tax payers' money wasted. Instead the debate continues to be about who can shout the loudest about how great it is to surveil the public.
The latest weapon wheeled out in the battle to love cameras is the use of CCTV in tower blocks, an issue raised by Harman during Prime Minister's Questions in the House of Commons on 9th June [2]. Harman suggested that the coalition government had "talked about ending what they called the surveillance society". Presumably Harman was trying to repeat the lie that the September 2009 Conservative party report 'Reversing the rise of the Surveillance State' [3] was somehow about rolling back the proliferation of surveillance cameras across the UK. In fact the report made no mention of cameras!
Cameron, not fazed by Harman's remarks, stepped up to the dispatch box and declared undying love for cameras:
On surveillance, let me be clear that I support CCTV cameras. I have them in my constituency and they are very effective, and when I worked at the Home Office many years ago I championed such schemes
Here Cameron shows that he does indeed adore CCTV. His constituency in Witney has cameras even and apparently "they are very effective". How can anyone argue with that? Though it might be worth pointing out that there has been no evaluation of the cameras in Witney and that all major studies of CCTV have come to the conclusion that they are not very effective actually. Cameron went on to say that he and his chums on the government side of the Commons "think civil liberties are important", but clearly not when it comes to filming people going about their daily business.
At this point Harman played the CCTV in tower blocks card, she said:
Can I tell him what Theresa was saying to me on Friday? Not the Home Secretary, but Theresa from the Poets Corner estate in my constituency. That Theresa is the one who knows about living on an estate that needs CCTV. Let me tell the Prime Minister that such people do not want to be told by this Government that it is going to be made harder to get the CCTV that they need on their estates. I press him on this because it is about people feeling, and being, safe in their communities. Will he guarantee that he will not do anything to make it harder to get or to use CCTV?
Cameron's response was that "this is all about proportionality and making sure that we have a system that helps protect people while respecting civil liberties". Which is an odd response because CCTV neither protects people nor respects civil liberties. What Cameron could have done was to point out that CCTV in tower blocks is a huge waste of money and he could have illustrated this by referencing a scheme in Oxford, not far from his Witney constituency. Before we come to that, let's just see how the local newspaper in Harman's constituency expanded on the CCTV in tower blocks story ('MP raises CCTV concerns in parliament' - Southwark News, 18th June 2010) [4] - the Southwark News reported:
Theresa, who is calling for CCTV to be installed on her estate, said: "We have a lot of people who don't live on the estate who come here to sell drugs. There are also people with dangerous dogs. Two weeks ago some kids were set upon by some dogs and had to run into the nearest flats.

"People will not always testify because they are scared and have been harassed and intimidated. The CCTV cameras will help us and the police get the convictions for these illegal activities."
As usual no effort is made to explain just how CCTV is going to tackle all of the problems on Theresa's estate. It is surely only a matter of time before surveillance cameras are heralded as the solution to the global financial meltdown. But can such claims of the value of cameras in tower blocks be challenged? Is there any data we can reference?
Back in 2009 the Oxford Mail asked No CCTV to comment on proposals to put CCTV in several tower blocks in Oxford following a trial of cameras in one block, 'Foresters Tower' in 2008. No CCTV sent the Oxford Mail a 250 word piece (as requested) for their 'The Issue' column which was published in October 2009. When the article was published somehow the key section of No CCTV's comments had been removed. Below is the piece as it should have appeared, with the removed text in bold:
CCTV in tower blocks is an invasion of privacy and a waste of taxpayers money.

Study after study has shown that surveillance cameras are not effective in the fight against crime despite the hype that council staff and police constantly use to justify the expansion of CCTV. Privacy is not about hiding bad things from the police or other authorities, it is part of what defines life in a free country.

It has been reported that some residents want cameras in their tower block but in fact what they understandably want is a solution to the problems in their environment and they wrongly believe that CCTV will help. Councillors like CCTV because they think that it shows they are doing something and is therefore a vote winner.



The CCTV pilot in the Foresters Tower block in 2007/8 shows that the council is exaggerating the problem and that in reality CCTV had little impact – it was only a minority of the 28 residents surveyed who said that incidents of antisocial behaviour had gone down after the cameras were installed.

The fact is that better community reduces crime, technology does not.

Filming people in and around their own homes is an incredible escalation of surveillance – it makes it possible to record when residents enter or leave their own homes and is tantamount to a council run control order. We were brought up believing "an Englishman's home is his castle" but increasingly it is becoming accepted as fair game in an out of control surveillance state.
When the above article appeared, the local councillor, who was portfolio holder for Oxford City Homes, was given 243 words to speak in favour of CCTV in tower blocks. No CCTV was given just 204 words to speak against. On challenging the Oxford Mail they apologised for the "mistake" and said it wouldn't happen again.
The key section of No CCTV's comments was based on Oxford council reports on the Foresters Tower CCTV trial. The reports included a survey of residents ('Foresters Tower CCTV Pilot Scheme Tenant and resident survey') [5] , completed by just 28 residents. Question five of the survey showed that the trial can hardly be described as a success, with only a minority of respondents thinking CCTV made a difference in all categories of "anti social behaviour":

Another report ('Anti Social Behaviour Incidents 01.10.2007- 31.03.08') [6] detailed the incidents of "anti social behaviour" during the trial that were it was alleged blighting peoples' lives and that the cameras were supposedly meant to tackle (though quite how was not described). It revealed that during the six month trial there were just 13 incidents of anti-social behaviour, three of which were "smelled smoke in the lift", one was "Note put up on wall" and another "Signs removed from foyer walls", see below: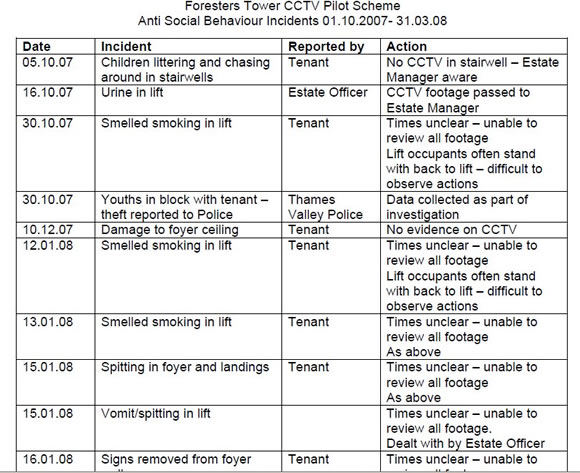 So following such a trial, that made no difference to incidents that didn't really happen, what were the recommendations of the council? The 'Foresters Tower CCTV Pilot Results' report [7] recommends:
That the Executive Board notes the result of the CCTV pilot in Foresters Tower and approves the proposal to extend the scheme to Plowman, Windrush and Evenlode Towers.
Sure enough Oxford council spent £110,000 of taxpayers money installing cameras in three other tower blocks (and keeping cameras in Foresters Tower). Naturally the Oxford Mail was on hand when the cameras went up in February of this year to report on how happy the tenants were to be under surveillance ('Tenants praise CCTV systems at city tower blocks', Oxford Mail 8th February 2010) [8], the Mail reported:
Residents claim the CCTV system is making a difference to their lives, and the council said it had noted positive feedback from people in the three months since the cameras were turned on.
And the paper even managed to drop in a mention of the Foresters Tower trial, when the report said:
The security boost followed a six-month trial, where six cameras were fitted at Foresters Tower, in Wood Farm, after residents complained of antisocial behaviour.
Though it appears that they forgot to mention the council's reports on the trial, and the survey, and the tiny list of incidents that occurred during the pilot. Maybe that was just a "mistake" and it won't happen again. Again.
When it comes to CCTV cameras politicians and the media alike don't let the truth get in the way of expanding the surveillance state. It is worth remembering that members of parliament and journalists are protected by absolute privilege and qualified privilege respectively [9], which protects them from civil or criminal prosecution for statements made in parliament or the reporting there of. CCTV in tower blocks is no exception - let the lying begin.
Endnotes: